Posted May 26, 2023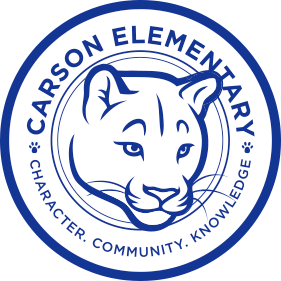 COUGAR PRIDE
Carson Elementary Principal Newsletter
We are Carson!
Climate and Culture~ We provide a safe, collaborative, and inclusive community that fosters a sense of belonging and joy. We empower students to develop growth mindsets and to advocate for their social-emotional and academic needs in order to build resilience.
Professional Learning Culture~ We build and maintain trusting, collaborative relationships in order to intentionally foster growth and well-being of students and staff.
Family & Community Engagement~We partner with our families and community to embrace diversity, nurture trust, and provide a variety of opportunities to engage with Carson in meaningful ways.
Learning and Instruction~We maintain high expectations of students while providing rigorous, engaging, authentic instruction through culturally responsive and data driven practices to ensure student success.
Principal Message
Dear Carson Community,
We had a successful intermediate field day make-up this week! As well as a special harp demonstration by our beloved Mr. Paul!
If you haven't yet, check out the Carson staff talent here! We are wrapping up the year with learning, fun and joy!
With gratitude,
Thank YOU!
We want to take a moment to let all of you know how much you are appreciated! Thank you for supporting your students and teachers here at Carson!
Thank you to everyone who kindly donated Tuesday Treats throughout this semester for our staff. The extra fuel was tasty and so appreciated! Thanks to Ali Sloan, Kristen Alkire, Julie Hemphill, Julie McLaughlin, Jennifer Williams, Kristine Fisher, Katie Vanderveen, Jodi Hullinger, Brooke Bowlby, Andee Foutch, Michelle Chaffin, Lauren Womble, Michelle Virta, Stephanie Behl, Kate Lewis, Allison Jackson, Grace Berman, Alison Antony, Melissa Flynn, and Cindy Ferrara!
Thank you to our wonderfully dedicated PTA for all of their generosity and support this year. Thanks to all of you members and to our Board: Kristin Alkire, Ali Sloan, Nicole Thrasher, Lauren Womble, Lauren Axon, Misty Lindsey, and Anna Sidorchuk.
Thank you to our amazing CSC members who helped us make decisions for our students this year. Thanks to Jessica Pollyea, Samantha Schwarz, Tamiko Johnson, Ali Sloan, Kristin Alkire, David Seigal, Kari Howard, and Joelle Hernandez,
Register Now!
Last chance to register for Carson! Our early registration- which really helps us with knowing our student enrollment for next year- has been extended to June 1st. All students, continuing or new, need to participate in the registration process.
Step 1. To register, sign in to Parent Portal, and make sure your username and password are accurate. If you are having trouble, please try to reset your username and then reset your password. If you can't access the system or you are unable to get a username or password, please contact DPS Department of Technology Services at 720 -423-3888 ext #3Step 2. In the Parent Portal go to the left corner and click on "See All Apps".Step 3. Scroll down to the bottom on the left-hand side to see "Online Registration".Step 4. Click on "Online Registration". Step 6. Click on your student's information. Step 7. Click on "More" on the left-hand side. If there is not a column that says "More", click on the three horizontal parallel lines above in green to access the "More" button. Step 8. Click on "Online Registration" to verify or update your student's information for the 2023-2024 school year.Once a student is enrolled — or accepted — into a DPS school, registration needs to take place for the next school year. This is the annual online process of providing and updating student and family information on file, including emergency contacts, health information and more. We encourage you to participate in this process this spring so we know how many students to expect in the fall. We also recommend registering online because it's convenient and saves time. Families can register online for the 2023-24 school year during the "Early Bird" window, May 8th-June 1st.
If you haven't already, please fill out this brief anonymous survey to help with our planning purposes for next year. Thank you so much!
Summer of Sora
We are thrilled to announce the return of our Summer of Sora reading program to all DPS students. Summer of Sora is the DPS summer reading program to encourage students to enjoy our digital library of over 46,000 eBooks and audiobooks all summer long.
From June 5th through August 11th, students can log in and check out books in our vast collection of ebooks and audiobooks in Sora for a chance to win! Each week, we'll select ten lucky winners to receive a brand new book, making for a grand total of 100 winners. And that's not all – four grand prize winners will receive a Kindle e-reader and a Sora hoodie!Prizes will be delivered to the students in the Fall of 2023.
3 ways to login to Sora:1. Go to lion.dpsk12.org/217 then click on eBooks and eAudiobooks and select Sora OR2. Go to soraapp.com/library/dpsk12 OR3. Use the free Sora app for tablets and phones using Setup Code "dpsk12"
Log in using DPS credentials: -Username: DPS Student ID # -Password: Date of Birth MMDDYYYY
Have a great summer and read, read, read! Summer of Sora
Wildfire Smoke Study
As you've likely noticed, we've recently been experiencing a period of extreme air pollution resulting from wildfire smoke. In this case, smoke was transported south from a series of fires in the Canadian Rockies that have burned over 1 million acres of forest to date. While we can be grateful that these fires are not threatening our community at present, the smoke that we're dealing with can still have serious impacts on our health and that of children in our communities. Our group at the University of Colorado Boulder is interested in the way that wildfire smoke affects children, and has partnered with schools in the Denver area to investigate childhood exposure to wildfire smoke and associated health outcomes. Carson Elementary is one of our partner schools, meaning that we are currently monitoring smoke exposure within the school and are working with families of students to determine how children are affected by smoke, and what their exposure looks like in the home. Right now, we are monitoring the current smoke event and gearing up for future events that we expect to take place over the summer and fall. Part of this preparation includes recruiting families from our partner schools to help us with our study by completing health surveys and receiving in-home smoke monitoring during the fire season. We really need more families to help us with participation this year, so if you're interested in participating, please email us at cu.wildfiresmokestudy@colorado.edu or use he QR code at the bottom of this page. We look forward to hearing from you, and we hope that you and your families stay safe during this wildfire season.
Collaborative School Committee
If you missed it, here is the CSC recording from our May 25th meeting.
From the Health Office
We are fast approaching another end of the school year! In order to get organized for the upcoming school year, DPS Nursing and Student Health Services has afew items for you to review:● If your child had any medication and/or medical equipment at school this year, they must be picked up from the health office at the end of the school year.Medications cannot go home with your student.Medications will be disposed of if they are not picked up by the last day of school- June 2nd.If your student is participating in a summer program, parent/guardian must pick up the medication/equipment on the last day of school and bring it to the summer program on the first day.Medication forms for the upcoming school year can be found HERE.Per law, your child needs to be updated with the required immunizations for school attendance or have an exemption in place by the start of the school year.If your child has health insurance through Medicaid or CHIP, be on the lookout for a renewal letter in the mail from Health First Colorado. To ensure you receive this critical piece of mail: make sure your address, email, and phone number are up to date. Questions? Email or call DPS Medicaid at 720-423-3661Denver Health School Based Health Centers provide medical, mental health, dental and behavioral health care to any DPS student and their siblings at NO CHARGE.If you have any questions, please contact your school health office.Have a great summer and we look forward to seeing you next year!
Forgot to Order the 2022-23 Carson Cougar Yearbook?
It's not too late! If you are interested in purchasing a yearbook, visit this link. You will have to create an account through Treering.
Crossing Guards Needed!
Help Carson Elementary find additional crossing guards! Please copy this graphic and post it on your social media pages!
We are in need of crossing guards at Carson Elementary School! Thanks for passing along the message so we can find people to help our students arrive at school safely!Job Posting Description More Information Here
Substitute Teachers
Become a substitute for Carson! Enjoy a flexible schedule! Join a great team! Make a difference for our school! Becoming a sub for DPS is fast and easy. The first step is to obtain your license from the Colorado Department of Education. Here's how! Talk to Jessica or Norma if you have any questions!
Reminders
Resources
Upcoming Events
5/8-6/1: Early Bird Registration ~ Through Parent Portal 5/21: Your Voice/Tu Voz Deadline5/24: Intermediate Field Day Make-Up Date 8:305/25: Virtual CSC Meeting – 5 pm Agenda6/29: Check the Lost and Found6/1: 5th Grade Continuation 2pm6/2: Fun Run 8:20-9:006/2: End of Year Character Education Assembly 9-9:306/2: Student vs. Staff Kickball Game 12-16/2: Lost and Found Donated6/2: Last Day of School~ 1pm dismissal
Carson Specific Calendar
PTA News

Upcoming Events
Fun Run | June 2, 8:15-8:40 am
Save the date for Carson Auction | November 3, 2023 | Upper Larimer

Future PTA Events



What's New
Fun Run PTA and Carson Elementary are so excited to host the Carson Fun Run again this year!The event will be held on the last day of school, June 2nd! After the Fun Run, there will be a Character Ed rally on the playground, and popsicles! The run is a mile long and goes along the streets near Carson. You can wait for your students to cross the finish line, or line streets and encourage the runners as they race! (see map for details).
We are still in need of the awesome role of corner turn volunteer!!! The corner turn volunteer's role is to stand where the street is blocked off and make sure the runners make their turns and help encourage them! You can even bring poms poms and noise makers to make the race more fun! There are four major turns during the race. Ellsworth at Fairfax, Fairfax at Bayaud, Bayaud at Grape, and Grape at Ellsworth. We will have two volunteers at each corner, sign up using the link below!:
We need lots of volunteers to make this event great!
There will be staggered start times by grade:5th grade: 8:20am4th grade: 8:25am3rd grade: 8:30am2nd grade: 8:35am1st grade: 8:40amKindergarten: 8:45am
The students will be running a one-mile loop that through the neighborhood (please see the map below).
See you on June 2nd to cheer on our Cougar runners!!!

Carson Brumates
ON SALE NOW: Carson Elementary leak-proof, go-to travel mug for hot and cold drinks. $35. Contact kristenalkire@gmail.com or 312-933-0097 for pickup.


Board ElectionsCongratulations to Andee Foutch, President-Elect, Lauren Stoffel, Secretary, and Alison Antony, VP Volunteers. Thank you for volunteering to support Carson Elementary!
Thank you to outgoing PTA Board Members, Ali Sloan and Nicole Thrasher. We appreciate all you have done for Carson. We will miss you!


Sign up for the PTA Newsletter! Please don't miss out on all of the fun end of year activities that are planned. Sign up here to receive information from the Carson PTA.

Parent Education Night: Bullying!The slides are available for PARENT EDUCATION NIGHT: WHAT PARENTS NEED TO KNOW AND WHAT THEY CAN DO ABOUT BULLYING.You can access the slides here.

Save the Date for the Carson Auction!
Auction Buy-A-SharesDid you miss out on signing up for Buy-A-Share parties at the auction? There is a limited open spot for some amazing Spring parties!! RSVP here and then click here to pay for your ticket. If you want two tickets, please sign up and pay for 2 spots. If you have any questions or would like to pay another way, please email nicolethrasher@msn.com
Order the 2022-23 Carson Cougar Yearbook! If you are interested in purchasing a yearbook, visit this link. You will have to create an account through Treering.
Carson Community Bulletin Board
This is Carson!
May
Total Enrollment:
413
Attendance:
94.96%
Teachers:
32
Support Staff:
22
Demographics
American Indian or Alaskan Native:
2.2%
Asian:
7%
Black:
6.7%
Hispanic:
8.67%
Multiple Races:
5%
White:
80%
Native Hawaiian or other Pacific Islander:
0%
Free/Reduced Lunch:
13.56 %
Highly/Gifted and Talented:
81 (19.6%)
Deaf/Hard of Hearing:
19 (4.6%)
Multilingual Learners:
30 (7.3%)
Special Education:
42 (10.2%)
Students of Color:
28.6%
Please excuse any errors in translation.