Posted March 17, 2023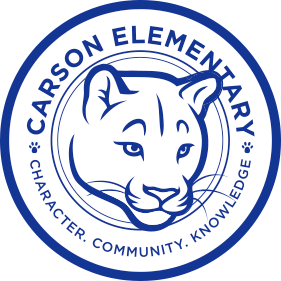 We are Carson!
Climate and Culture~ We provide a safe, collaborative, and inclusive community that fosters a sense of belonging and joy. We empower students to develop growth mindsets and to advocate for their social-emotional and academic needs in order to build resilience.
Professional Learning Culture~ We build and maintain trusting, collaborative relationships in order to intentionally foster growth and well-being of students and staff.
Family & Community Engagement~We partner with our families and community to embrace diversity, nurture trust, and provide a variety of opportunities to engage with Carson in meaningful ways.
Learning and Instruction~We maintain high expectations of students while providing rigorous, engaging, authentic instruction through culturally responsive and data driven practices to ensure student success.
Principal Message
Hello Carson Community,
Wow!  What an amazing week we've had here at Carson!  Our Booster Fun Run is in full effect and it has been a fun, energizing and rewarding experience! Thank you to all who registered and sent out the information to your friends, family, co-workers, and those who posted the information on social media. Thank you if you also have donated yourself. We are rocking it and in sight of our goal- thanks to you! If you haven't yet posted, please consider helping us meet and surpass our goal!! The funds will benefit our students and our wonderful school. 
We had our science fair this week for fourth and fifth graders.  It was evident they put a lot of work into their projects and learned an immense amount about the scientific method! 
Our fourth and fifth graders performed in the art exhibition this week. Their performances and artwork were spectacular!  Kudos to the whole specials team, Ms. Bruchweiler, Mr. Stehle and Ms. Weir who made this incredible performance and evening possible! Check out the wonderful performances below! They could all go on tour! The fifth graders performed fully unaccompanied!  

5th Grade Holdeman
5th Grade McCalister
5th Grade Neider
4th Grade Goers
4th Grade Henry
4th Grade Larson

Our first International Day celebrating our acceptance character trait was a huge success! We had a cultural parade, got to try various foods from other countries, learn about our students' heritages and were entertained by food demonstrations and coffee roasting!  What an experience for all! 

This week was amazing! Next week will be just as jam-packed with more excitement and learning!  We have spirit week, our Booster Fun Run-it's not too late to send out donation requests to all you know, and our Character Ed Acceptance Assembly!  Wow! I can't wait! 


With gratitude, 
3rd and 5th Grade Assembly~ SungateKids SafeKids
Student safety is a top priority in Carson Elementary School. We know that being and feeling safe is an important part of being the best learner a child can be and we want all of our students to have the knowledge and language they need to be safe from abuse. We are excited to be able to partner with local experts in the field of child abuse to provide an important learning opportunity for our students.
SungateKids, a nationally accredited Child Advocacy Center, has created a program specific to the prevention of physical and sexual abuse. SungateKids SafeKids (SK2) was created to teach children how to keep their bodies safe. Children learn about the dynamics of child physical abuse and sexual abuse through the use of puppets in an age-appropriate, interactive, performance-based assembly. This assembly will be offered to 3rd and 5th grade students this year on the morning of April 5th.
We are looking forward to sharing this important program with our students and are eager for you to learn more about it. PLEASE take 5 minutes to watch this Information Video to see why we are so excited to welcome SungateKids to our school community!
If you have questions or concerns contact Danielle Drish at danielle_drish@dpsk12.net. If you do not want your child to participate, opt-out here. 
Trimester 2 Grades
You can now access your student's trimester 2 grades through the Parent Portal. If you have any difficulties accessing this information, you can contact Jessica at jessica_compaore@dpsk12.net
MLE DAC
Please see below for the March MLE DAC meeting information, thank you!
Our next district MLE DAC meeting will be on March 22nd at West High School (951 Elati St. Denver, CO 80204)
This meeting will be held in the morning from 9:30 am – 11:00 am. 
Topic: This month we are presenting information on several DPS summer programs available to families, including Summer Connections, MS Gen Teach, HS Summer School, Project 2020x. 
Resources: There will be resource tables for other summer programs as well, i.e. Denver Public Library, etc.
Please see the attached flyers in various languages. Reach out to Joelle Hernandez (joelle_hernandez@dpsk12.net) with any questions. EnglishEspañolعربي (Arabic)አማርኛ (Amharic)Français
Carson Directory
The wait is finally over and our apologies for the delay! Please find the 2022-2023 Carson Elementary Directory attached. Note that a student's name may show up more than once as each is associated with a guardian. We have opted to go digital this year rather than print. A HUGE thank you to Walter's 303 for their continued support of the directory and school! If you have any questions please reach out to the PTA. Thank you!
Air Quality Monitoring
University of Colorado Boulder Wildfire Smoke Study in Schools~  CU has been monitoring the air quality in Carson! They started monitoring air quality in 19 schools, including Carson, in the summer of 2022. Although there were not many wildfires near us last fall and summer, they collected good data from the fire in September that affected the Front Range. They are continuing our monitoring in 2023. 
CONTINUED RECRUITMENT Near the end of last fall we conducted our first round of in-home monitoring. The vast majority of this deployment was in and around southern Denver when we were receiving some of the smoke from the Pacific/Northwest fires. We collected air quality monitoring data in 18 family's homes in Fall of 2022 but are looking for more family participants from our partner schools within Denver Public Schools and Adams-12 Five Star School districts. We are looking for participation this spring, summer, and Fall of 2023 for in-home monitoring & daily symptom survey. 
AT HOME AIR QUALITY MONITORING For the families who sign up for at home monitoring, we will place a small low cost air pollution sensor like the one to the right, in your home for 4-6 weeks. During that time, we will send you text messages to have you or your child report on any respiratory symptoms they feel that day. 
JOIN THE RAFFLE! Your family will receive a $25 gift card to a local grocery store when you sign up for in-home monitoring, and another $25 when we come to remove the sensor from your home. Each day that your child completes the daily health survey portion of our study is an entry into the raffle to win a tablet! 
Contact Us! If you are interested in learning more, please scan the QR code to send an email or call (303) 735-0631 and leave your name, phone number, and the name of your school. We will follow up with you with more information on the study to see if you are interested. We are looking to add more participants throughout this spring and summer.


Chromebook Updates

With CMAS testing being just around the corner, it is very important that our Carson Cougars have the most current ChromeOS update on their Chromebooks by/before April 11, 2023.

Please use the following link to help your child(ren) download the latest Chrome operating system for their device.
Vision, Hearing and Dental Screenings
Denver Public Schools provides free vision, hearing, and dental screenings for all students in identified grades (Early Childhood Education, Kindergarten, 1st, 2nd, 3rd, 5th, 7th, and 9th). The screenings are NOT an assessment or an evaluation and do NOT replace professional exams. Mass screening is considered best practice to identify students who may be at risk for health concerns affecting the student's ability to learn, and who may need extra support to reach academic benchmarks.  Your student will receive vision, hearing and dental screenings. Resources are available for DPS-enrolled students. You must notify your school nurse directly should you wish to REFUSE/OPT OUT of any of the free screenings for your student. The health screening components of vision, hearing, and dental will be completed at Carson on: April 4th & April 5th, 2023.
Please contact our school nurse AnnMarie Conte, RN at 720-424-9094 or annmarie_conte@dpsk12.net for any questions or concerns about the health screenings.  Parents/guardians of students who were absent or who did not have optimal hearing, vision or dental screening results will be notified in writing regarding the results. Thank you for your assistance as we work together to educate and support your students!
A Message from our Health Office
If your child is sick with something specific please let us know when you leave a voicemail on the attendance line, or by including our school nurse Annmarie Conte (annmarie_conte@dpsk12.net) in an email. With the respiratory season in full swing, there continues to be circulation of many different seasonal viruses and a few reports of Strep. The sooner we know, the sooner we can take mitigating measures. Thank you!
Viral gastroenteritis is common year round but is seen more often in winter months (November-April). Here is information on Norovirus and Infectious Disease.
2023-2024 Discovery Link Registration
Discovery Link's 2023-2024 School Year registration opens soon! Please mark your calendars and be logged into your SchoolCare Works account at 6:00 am, Monday, April 17, 2023, to reserve your child's space in the program. A non-refundable, non-transferable fee ($35 for one child or $50 for a family) is due at registration.ELCS offers Discovery Link at 56 DPS elementary schools. All sites provide after-school (PM) programming from bell time until 6:00 pm. In addition, many sites also offer before-school (AM), Camp, Early Release, and ECE programs. Please click here, and scroll down to the bottom of the page to see the programs offered at each location.


2023-2024 PRICING per day:

AM Discovery Link – $9.75
PM Discovery Link – $17.50
Kadoodles – $25.00
Camp Days – $51.00
Early Release Days – $29.00

FINANCIAL ASSISTANCE & DISCOUNTS: Sibling Discount: Discovery Link offers a 10% discount for siblings. The discount is applied to the second child in a family and each additional child thereafter. Financial Assistance is available for those families who qualify for DPS's Free and Reduced Lunch program. The discount is 30% off the regular tuition rate. This discount does not apply to additional fees including, but not limited to: registration, field trips, late pick-up, or unscheduled attendance. Families who wish to utilize this discount must email a copy of their authorization letter to: discovery_link@dpsk12.org. The discount will be applied once the authorization letter is received. A new authorization letter is required every school year. Families who qualify for the Colorado Child Care Assistance Program (CCCAP) are encouraged to apply. You can find more information and apply for CCCAP HERE! Please call 720-423-1781 or email discovery_link@dpsk12.org with any questions.
Carson Spirit Week
Let's celebrate Carson by participating in School Spirit Week next week!
Monday 3/20 – Super Hero Day
Tuesday 3/21 – Dress Like a Teacher Day – bring your running shoes too for the Booster Fun Run!
Wednesday 3/22 – Wild Wednesday – wear your animal prints!
Thursday 3/23 – Throwback Thursday – dress like your favorite decade
Friday 3/24- Everyone's favorite – Pajama Day!
Crossing Guards Needed!
Help Carson Elementary find additional crossing guards!  Please copy this graphic and post it on your social media pages!  
We are in need of crossing guards at Carson Elementary School!  Thanks for passing along the message so we can find people to help our students arrive at school safely!

Click here for more details
Flyer Link
Substitute Teachers
Become a substitute for Carson!  Enjoy a flexible schedule! Join a great team! Make a difference for our school! Becoming a sub for DPS is fast and easy.  The first step is to obtain your license from the Colorado Department of Education. Here's how!  Talk to Jessica if you have any questions!
Reminders
Resources
Upcoming Events
PTA News

Upcoming Events
Carson Elementary Booster Indoor Glow Run Fundraiser | 3/10 – 3/21
Kick-off | March 10, 2023
The main event (the indoor glow run) | March 21, 2023
Details below.
Colorado Rapids Carson Fundraising Night | April 22, 7:30 PM | Dick's Sporting Goods Park
See details below
Save the date for Carson Dance | April 28, 2023

Future PTA Events


Carson Elementary Booster Fun Run Update!
Tuesday, March 21
The Booster Outdoor Fun Run is finally happening this Tuesday, March 21! 
**Parents! Please attend, watch, and cheer on your children if you're able! Grades K/1/2 will run from 8:30 to 9:30 am. Grades 3-5 will run from 9:55 to 10:55 am. 

We're on our way to reaching our goal of $25,000 for staff salary and classroom enhancements, but we still need YOUR help as we hit the homestretch!

*Register your student(s) on mybooster.com. (They'll get a FREE reward!)
*Create your Student Star Video on mybooster.com and share your student star video with friends and family.
*If you are able, please consider donating to our school. (Reminder: all students get to participate in our fundraiser, no matter your ability to give!)
*If your company provides matching donations for your charitable giving, please be sure to submit the paperwork through Booster so we can maximize our fundraising efforts!

**Note that the Carson PTA EIN is 84-6048022, but may show up in your company match system as the PTA Colorado Congress Carson Elementary PTA. 

*Finally, if you know anyone who would like to support the Carson Fun Run, general gifts can be made through this link.
Our students are so excited, thanks for helping make our fundraiser great! 

HUGE THANKS TO THE ENTIRE COUGAR COMMUNITY

We scatter all kinds of fun ways to raise money for our awesome school throughout the year.
THANK YOU ALL for supporting us in all the ways you are able! 
YOU ALL, YOUR AWESOME COUGAR SCHOOL SPIRIT, AND YOUR GENEROSITY MAKE OUR COMMUNITY SO WONDERFUL!

Lunchroom Volunteers Supervise students during their lunch. Help with hard to open lunches, clean up, and composting. Click Here to be a LUNCH VOLUNTEER

 Board Elections – VP of Volunteers 

WE NEED YOUR HELP! 
CARSON PTA IS LOOKING FOR A VP OF VOLUNTEERS. 

This position is essential to providing all of the amazing events at Carson!  Please reach out to Nicole Thrasher at nicolethrasher@msn.com or Kristen Alkire at kristenalkire@gmail.com with questions. 
 
Interested in joining the Carson PTA Board?  It is a fun way to support the school, our students, and our community!  The following positions are available for the 2023-2024 school year (all positions are two-year commitments).  Descriptions of the positions can be found HERE.
Elections will take place at the March PTA Meeting.
*President-Elect (this position serves one year as President-Elect and the following year as President)
*Secretary (two-year commitment)
*VP of Volunteers (two-year commitment)

Please reach out to Nicole Thrasher @ nicolethrasher@msn.com if you have any questions!

Auction Buy-A-Shares
Did you miss out on signing up for Buy-A-Share parties at the auction?  There is a limited open spot for some amazing Spring parties!!   RSVP here and then click here to pay for your ticket. If you want two tickets, please sign up and pay for 2 spots.  If you have any questions or would like to pay another way, please email nicolethrasher@msn.com

Ellsworth Crosswalk – Volunteers needed!
Help keep our children safe! We are asking for volunteer crossing guards on Ellsworth and Hudson from 7:55-8:05. 

Join the Colorado Rapids for Carson Elementary Fundraising Night!
Carson Elementary will have two sections to cheer as the Colorado Rapids take on the St. Louis City, 4/22 at 7:30 pm at Dick's Sporting Goods Park. 
A portion of every ticket goes back to supporting Carson.
Buy tickets here.

 
 
VOLUNTEER OPPORTUNITIES
Here are some fantastic ways that you can volunteer at Carson. Please reach out to Nicole Thrasher @ nicolethrasher@msn.com if you have any questions!

Lunchroom Volunteers
Supervise students during their lunch. Help with hard to open lunches, clean up, and composting.
Click Here to be a LUNCH VOLUNTEER

End-Of-Year events
Our end-of-year hospitality events need a few more volunteers!
Click here to find out which events and sign up.
Reach out to nicolethrasher@msn.com with any questions. 




Congratulations to the Auction Parking Spot Winners!
A gentle reminder that the two Auction Winner parking spots on Grape Street are only for the families who purchased those spots at the auction.

Pick up your Auction winnings! If you have not picked up your auction winnings, please contact Kristen at kristenalkire@gmail.com 

There is still some beautiful artwork left, please visit the Carson foyer to see and bid on this!
Artist Jon Stemler painted canvases that our sweet kids sketched on first.  The outcome is fabulous!  Check out the artwork which is being displayed in the Carson lobby.

Carson Community Bulletin Board
This is Carson!
March
Total Enrollment:
413
Attendance:
94.96%
Teachers:
32
Support Staff:
22
Demographics
American Indian or Alaskan Native:
2.2%
Asian:
7%
Black:
9.0%
Hispanic:
8.75%
Multiple Races:
5%
White:
72%
Native Hawaiian or other Pacific Islander:
0%
Free/Reduced Lunch:
12.41 % (2021-22 data)
Highly/Gifted and Talented:
81 (19.6%)
Deaf/Hard of Hearing:
19 (4.6%)
Multilingual Learners:
30 (7.3%)
Special Education:
28 (6.7%)
Students of Color:
28.6%
Please excuse any errors in translation.