Cougar PRIDE Newsletter
Posted September 16, 2022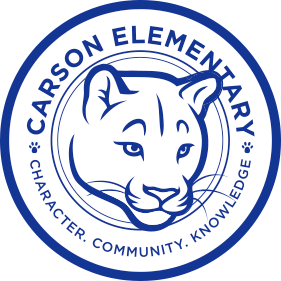 We are Carson!
Climate and Culture
We provide a safe, collaborative, and inclusive community that fosters a sense of belonging and joy. We empower students to develop growth mindsets and to advocate for their social-emotional and academic needs in order to build resilience.
Professional Learning Culture
We build and maintain trusting, collaborative relationships in order to intentionally foster growth and well-being of students and staff.
Family & Community Engagement
We partner with our families and community to embrace diversity, nurture trust, and provide a variety of opportunities to engage with Carson in meaningful ways.
Learning and Instruction
We maintain high expectations of students while providing rigorous, engaging, authentic instruction through culturally responsive and data driven practices to ensure student success.
Principal Letter
Hello Carson Community,
What a wonderful turn out for Carson's 70th Birthday Celebration last week! Thank you to everyone who volunteered or came out to celebrate with us! It was so much fun connecting with our community, past Carson teachers, and Carson alumni, some from when Carson was built!
Traffic and Parking
A reminder that the Jewish High Holy Days are upon us the next few weeks, so the traffic and parking may be an issue being in such close proximity to our neighbors at Temple Emanuel. Please plan accordingly on the following dates and times: Sunday, September 25th ~ Rosh Hashanah Afternoon/EveningMonday, September 26th ~ Rosh Hashanah DayTuesday October 4th ~ Yom Kippur Afternoon/EveningWednesday, October 5th ~ Yom Kippur Day
Carson Scientists
Last spring some of our Carson students got to participate in the filming of a science television show with Steve Spangler. Here are the dates for the upcoming Xploration DIY Sci episodes from Denver Public Schools featuring Carson Elementary, Barnum Elementary and Department of Vision Services. SCIENCE FAIR – Tuesday, October 11, 2022, 12:30pm – KDVR-TV (Fox-TV) INCLUSION (Vision Impaired Learners) – Tuesday, October 25, 2022, 12:30pm – KDRV-TV (Fox-TV) Eventually, longer versions of each episode will appear on Amazon free streaming. We will send out the links once they are available.
Identified Gifted and Talented Students
Hello from the GT team! We are putting in a gentle reminder that today is the due date for your child's ALP survey to be completed. This is an important tool for us to use in writing a successful ALP with you to ensure your child's success!
New Policy
If your child is tardy, picked up early, or picked up late, parents/guardians must sign the student in or out at our front desk. Bring your child through the front entrance to sign in your child if they are not at school on time (8:05). Do not just drop your student off if they are tardy.
Crossing Guards Needed!
WANT TO SUPPLEMENT YOUR INCOME FOR JUST A FEW HOURS A WEEK?
School Crossing Guards help school children cross the street safely. School Crossing Guards are required to be dependable and able to work outside during adverse weather. This position offers Ten (10) hours per week, $18.00 per hour. Click here for more detailsFlyer Link
Substitute Teachers
Become a substitute for Carson! Enjoy a flexible schedule! Join a great team! Make a difference for our school! Becoming a sub for DPS is fast and easy. The first step is to obtain your license from the Colorado Department of Education. Here's how! Talk to Colleen if you have any questions!
Reminders
Resources
Upcoming Events
9/19: BESS Window Opens9/23: New Parent/Guardian Brunch: 8:30-10:30 @ 10 S. Ivy St.9/25-26: Rosh Hashanah~ Please do not park in the Temple lot9/30: District Professional Learning Day~ No School for Students10/4-5: Yom Kippur~ Please do not park in the Temple lot
PTA News
Upcoming Events 9th & CO Donation Walk | 16 September 2022, 10:00am | Meet at Frank & Roze, 4097 E 9th Ave Sign up, see the flyer below. Cherry Creek Walk | 28 September 2022, 10:00am | Meet at Starbucks @ 200 Fillmore StSign up, see the flyer below. PTA Meeting | September 22, 2022, 6 p.m. | Carson ElementaryPlease join us for the PTA meeting on September 22, 2022 at Carson Elementary at 6pm. Childcare will be provided. New Parent Brunch | September 23, 8:30 a.m. -10:30 a.m. | 10 S. Ivy StAll are welcome!RSVP, see the flyer below. Cherry Creek Walk | 12 October 2022, 10:00am | Meet at: Starbucks @ 200 Fillmore StSign up, see the flyer below. What's NewNew Parent Brunch
RSVP HERE
Carson 2022 Auction Info
Auction Volunteer OpportunitiesPre-Auction Events 2022Help gather donations from businesses for the auction – join Donation Walks!
SIGN UP GENIUS Carson 2022 Auction Info BECOME A CORPORATE AUCTION SPONSOR Help support Carson's biggest fundraising event of the year by becoming a Corporate Sponsor of Carson's Auction! Marketing benefits include exposure for your company at school, at the auction, and onsocial media! Email Susan.pluss@comcast.net to learn more!
VOLUNTEER!Looking to help out…PTA is still looking for volunteers for the following positions. Advocacy LiaisonDo you like to be involved in the happenings at the capital? Help keep people in the Carson community informed of legislative movements and policy changes that affect our school and funding. Coordinated from home. Sign up DirectoryNeeded: data junkie and graphic design guru. Collect, organize and lay out parent/student contact information to create a school directory for Carson families. Looking for one data person and one graphic person to help the current directory volunteers. Coordinated from home.Sign up Hospitality ChairsSpoil them alert! Create, manage, and promote social events at Carson. Create advertising, signup genius, recruit volunteers. Coordinated from home.Sign up Lunch VolunteersHere are the café expectations to help support our Carson Cougars during lunch. Sign up If you would like to learn more or sign up please email nicolethrasher@msn.com



Quick and Easy FundraisingFor a quick list of all the easy ways to earn money for Carson Elementary, please go to https://www.ptacarson.com/ways-to-raise on the Carson PTA website. Short descriptions of the same list are also below for your reference. Milk Caps for MoolaLongmont Dairy Farm will donate 5 cents for every bottle cup from Longmont Dairy-produced products. Collect the caps and look for details at https://longmontdairy.com/caps/. Earn Cash for Carson Every Time You Shop with BoxTopsWith BoxTops for Education, Carson can earn money on purchases you already make. Just use the Box Tops app to scan your store receipt and instantly add cash to Carson's earnings. Give Back to Carson Each Time You Shop on AmazonDid you know that every time you shop eligible items at smile.amazon.com/ch/84-6048022, Amazon donates to Carson Elementary PTA? Help raise funds to support our school at no additional cost to you. It's easy! Just click on the link above, choose Carson Elementary PTA as your charity of choice, and then go through AmazonSmile every time you make a purchase on Amazon.
Use Your King Soopers Card and Support CarsonKing Soopers changed its fundraising program and it is easier than ever to continue to help raise money for Carson this Spring and Summer! No separate gift card! If you haven't already, go to https://tinyurl.com/kingsooperscarson to learn how to sign up online or through the app. Community OffersCheck out the PTA's brand new product catalog filled with great deals hand-picked by the PTA for Carson families. Offers are updated monthly and a portion of each purchase goes toward meeting this year's fundraising goal. Thank you for your continued support of our school, community and PTA!
Carson Community Bulletin Board
This is Carson!
September
Total Enrollment:
413
Attendance:
92.51% (2021-22 data)
Teachers:
32
Support Staff:
22
Demographics
American Indian or Alaskan Native:
.4%
Asian:
2.3%
Black:
7.9%
Hispanic:
9.7%
Multiple Races:
7%
White:
71%
Native Hawaiian or other Pacific Islander:
0%
Free/Reduced Lunch:
12.5% (2021-22 data)
Highly/Gifted and Talented:
63 (15%)
Deaf/Hard of Hearing:
13 (3%)
English Language Learners:
16 (4%)
Special Education:
30 (7.9%)
Students of Color:
28.6%
Please excuse any errors in translation.