Cougar PRIDE Newsletter
Posted June 3, 2022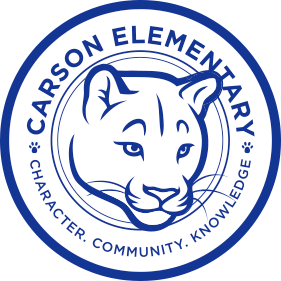 We are Carson!
Climate and Culture
We provide a safe, collaborative, and inclusive community that fosters a sense of belonging and joy. We empower students to develop growth mindsets and to advocate for their social-emotional and academic needs in order to build resilience.
Professional Learning Culture
We build and maintain trusting, collaborative relationships in order to intentionally foster growth and well-being of students and staff.
Family & Community Engagement
We partner with our families and community to embrace diversity, nurture trust, and provide a variety of opportunities to engage with Carson in meaningful ways.
Learning and Instruction
We maintain high expectations of students while providing rigorous, engaging, authentic instruction through culturally responsive and data driven practices to ensure student success.
Principal Letter
Hello Carson Community,
Happy Summer! To all current and incoming families, you are all set and enrolled for the 2022-23 school year here at Carson.  We are thrilled!  Here are a couple of things to note:

-If you did not do early bird registration, no worries, you will be able to do so beginning August 
We recommend you sign up for the Carson phone app to stay connected! Here's how: In the app store search for "Reach Well", or visit https://www.reachwellapp.com/  ADD Carson ElementaryYou're set!

-You can pay your annual school supply fee today.  Mark something off your list! Links to pay can be found here:1st-5th grade payment link
Kinder payment link
The annual fee per student pays for school supplies, online technology, and subscriptions used in your student's classroom.  You will not need to buy school supplies.  You also have the option to add in a scholarship if you would like! 

Mark your calendar:
8/1: Online registration opens
8/18: Student, Parent/Guardian and Teacher Playground Meet and Greet 3 – 4 pm
8/18: Kindergarten Parent/Guardian Orientation 4 – 5 pm  (in person and via Zoom)8/22: 1st-5th & DHH First Day of School 8:05-3:05
8/22-8/23: Kindergarten Classroom Exploration & Assessment by Appointment8/24: Kindergarten First Day of School 8:05-11:30
8/31: Back to School Night for 1st-5th 5-6:30 pm 
DPS 2022-23 calendar link. 

Carson will continue to get out at 1:00 on Fridays. 
We wish you the very best summer!  Relax and enjoy time with your family and friends! With gratitude, 
Thank You
Thank you to all of the families who provided our staff with Tuesday Treats (as well as additional days of the week!) this school year. We all appreciate your generosity and kindness to give us an extra boost to keep us going!
End of Year Assessment Results
Congratulations to all the students and teachers for persevering through our final i-Ready diagnostics this year! Please view this short slideshow to see our current performance results as of May 2022.
My TECH Chromebook Info
Please be advised that all DPS students have a Chromebook checked out to them for the summer and will use the same device in the fall when they return to school. Students have been given a Chromebook and a charger. Here is a list of expectations, responsibilities, and tips for you and your family. Any questions regarding your child's Chromebook can be sent to tara_dudenhoeffer@dpsk12.net (School Technology Representative) MyTech Chromebook Expectations and Responsibilities Students will keep their Chromebooks and chargers through the summer and into next year. They won't get a new Chromebook every new school year, they keep the one they were given this year. This includes 5th grade students, they will take their Chromebook to middle school with them. If your student is leaving Denver Public Schools, they will need to turn in their Chromebook to Ms. Colleen in the main office before Friday, June 3rd or they will be charged $280 to replace it. We ask that the chargers be kept in a safe place at home, and that once school starts again that Chromebooks are charged nightly or every other night to ensure that they are ready to be used each day at school. Students will be responsible for taking Chromebooks to and from school each day.
Carson Covid-19 Information
May: 32 cases Kindergarten: 2 student/staff1st grade: 6 student/staff2nd grade: 7 student/staff3rd grade: 3 student/staff4th grade: 5 student/staff5th grade: 2 student/staffGeneral staff: 7 Continue to report positive student cases to Nurse Lilly at puspita_ng@dpsk12.netCOVID reporting is still required for all confirmed positive cases. If you want a free home test, please email Lilly at the email above.
Masking is highly recommended at this time.
Parent Portal: Grades + Teacher Assignments
Term T3 03/06/2022 – 06/04/2022 grades will be available to view in the Parent Portal beginning Monday, June 6th. Also, as a reminder, the Parent Portal posts 1st period classroom teacher projections on July 1. Please note: these postings may not be accurate as shifting may occur based on enrollment. All class lists will be finalized Thursday, August 18th.
DPS Summer of Sora
Summer of Sora is the DPS summer reading program to encourage students to enjoy our digital library of over 40,000 eBooks and audiobooks all summer long. Beginning June 6th and for ten weeks ending August 12th, every Sora eBook or audiobook checkout is a chance for students to win prizes. Every week 10 students will win an Under Armour sackpack and book, for a total of 100 WINNERS! And three grand prize winners will receive Kindle e-readers!Here is the link to the flyer Summer of Sora Flyer English and Summer of Sora Flyer Spanish for more information.
Meet our New Team Members
Welcome to Carson! I am thrilled to introduce to you our newest team members joining us in the fall and some current team members who are changing roles!
Kalyn McGinnis- Dean of InstructionAlex Park– Kindergarten TeacherCathy Philpot– Part Time Kindergarten Para & Part Time Literacy InterventionistCasey Lehrer– Part Time Kindergarten Para & Part Time Instructional Support ParaErica Warner– Part Time Kindergarten Para & Part Time Instructional Support ParaPhoebe Spencer– Half Time 1:1 Para & Part Time Kindergarten ParaSpencer Manson– Full Time 1:1 ParaJessie Piel – Half Time 1:1 Para & Half Time Instructional Support ParaJennifer Holdeman– 5th GradeSammy Daniel- Special Education TeacherDanielle Drish– School PsychologistKari Howard- Half Time 5th Grade Science/Social Studies & Half Time Acceleration/Intervention TeacherJoelle Hernandez– Half Time Acceleration/Intervention & Half Time Multilingual Education TeacherSara Brunnschweiler – Music TeacherCheck out our Carson Website to see our entire staff! Read below for our new teammember's bios!Alex Park, Kindergarten: Hello! My name is Alex Park and I am a Denver native. I graduated from the University of Colorado with a degree in communication and sociology. Following that, I received my teaching license and masters in elementary education with a culturally and linguistically diverse endorsement. I worked in early childhood education for 3 years teaching the infant, toddler, and pre K classes at the Jewish Community Center. I have been in team DPS for 6 years teaching kindergarten. My goal is to create a school family where all my students feel like they belong and are connected. My passion is to spark the love of learning in my students and make learning fun through songs, chants, and movement. In my free time, I love to cook, bake, run, hike, and spend time with my family and two dogs, Scout and Champ.

Spencer Manson, 1:1 Para:

I'm from the Pacific Northwest and grew up in Oregon, and just recently moved to Colorado! Back in Oregon, I graduated with my Bachelor's in Russian and with a certificate in Elementary Education from Portland State University. In Portland, I taught in youth development programs before working as a paraeducator, and I just fell in love with it. I'm new to Carson, and I'm so excited to be joining this community!
When I have free time, I love hiking, practicing photography, and going skiing! I'm looking forward to explore the Rocky Mountains and all the natural beauty they have to offer!
Sammy Daniel, Special Education: Hi! I"m Sammy Daniel and I am excited to join the Carson staff. This year will be my 5th year working in Denver Public Schools and 11th year working in Special Education. I grew up in Barrington, IL and attended college at Butler University in Indianapolis, Indiana. Outside of school life, I enjoy spending time with my family in Sedona, finding the best Denver patio to have an outside lunch on and being with my dog, Ivy. Over the summer we enjoy camping, bike riding through the neighborhood and time in Lake Tomahawk, Wisconsin. Looking forward to meeting and being part of the Carson community!

Danielle Drish, School Psychologist:
Hi! I am so excited to be the new school psychologist at Carson this year! I was born in Chicago, Illinois. My family moved to Longmont, Colorado when I was 5 months old. This will be my 5th year in Denver Public Schools. I earned my Bachelor's of Arts in Psychology from Fort Lewis College and my Educational Specialist Degree in School Psychology from the University of Northern Colorado. Prior to coming to DPS, I worked in Morgan County School District for 2 years and 12 years in Adams 27J.
In my free time, I enjoy spending time outdoors adventuring with my chocolate lab, Huxley. I love camping, hiking, knitting/crocheting, brunching with friends, cooking and reading. I am also a HUGE Denver Broncos fan!!Sara Brunnschweiler, Music:Hello Carson Elementary! My name is Sara Brunnschweiler and I am very excited to join the Carson Community next year as the new music specialist. For the past nine years I have taught general music at Asbury Elementary in Denver Public Schools. Prior to that, I worked throughout mid-Michigan as a freelance oboist, private lesson instructor, and early childhood music educator. The decision to transition to an elementary music teacher was one of the best choices I have ever made, as I absolutely love teaching music to kids!

My philosophy of music education is that everyone has the intrinsic ability to make and enjoy music. In my classroom students sing, perform, write songs, create music, learn instruments, move, and are exposed to all genres of music. I love to use music as a way to help students learn self-expression, creativity, and problem-solving. Performing is also a big part of my curriculum, whether it's sharing a creation with the class, participating in a grade-level performance, or taking part in a musical.
A little about me… I grew up in central Indiana, then moved to East Lansing, Michigan where I attended school at Michigan State University. I have degrees in music performance and music education and have always been an educator at heart. My husband and I moved to Colorado in 2013 and we absolutely love living on the front range. I still look forward to seeing those beautiful mountains everyday! In my free time I do comedy improv, play with my band, and enjoy painting and reading. I can't wait to meet everyone and look forward to making some music together!
GT Summer resources
2022-23 Discovery Link Before and After School Care
Carson community! Registration for Discovery Link Before and After School Program opened Monday, April 18th. Please read this information for crucial and important information!
Save the Date!
8/1: Complete your online registration in the parent portal8/18: Student, Parent/Guardian and Teacher Playground Meet and Greet 3 – 4 pm8/18: Kindergarten Parent/Guardian Orientation 4 – 5 pm (in person and via Zoom)8/22: 1st-5th & DHH First Day of School 8:05-3:058/22-8/23: Kindergarten Classroom Exploration & Assessment by appointment8/24: Kindergarten First Day of School 8:05-11:308/31: Back to School Night for 1st-5th 5-6:30 pm
2022-23 Discovery Link Before and After School Care
Carson community! Registration for Discovery Link Before and After School Program opened Monday, April 18th. Please read this information for crucial and important information!
Free and Reduced Lunch
Due to the expiration of Federal Waivers that Nutrition Services has been operating under since the beginning of the pandemic, school lunches will no longer be free for all students in the 2022-23 school year. All students will need to be recorded by student ID numbers when they take their breakfast and lunch. Breakfast will remain no charge for all students. Lunch prices for 2022-23 will be as follows:Elementary lunches: $2.60Middle School lunches: $2.75High School lunches: $3 Meal Benefits applications are very important so that students can qualify to receive subsidized meals. If you have questions, please email foodservices@dpsk12.org. Students must have a qualifying meal application on file to receive free or reduced cost lunches. Breakfast, however, will remain free to all students. Families are strongly encouraged to complete a Meal Benefit application (online) in order to qualify to receive subsidized meals. Go to the link, put in your zip code, find Denver Public Schools, and you can begin an application. Students will need to have their application in or money in their lunch account by the first day of school.
Summer Camp Info
Stakeholder Meeting East 6th Avenue Traffic Study invitation
Denver City Councilwoman Amanda Sawyer is inviting you to a scheduled Zoom meeting. Location Information Join Zoom Meetinghttps://denvergov-org.zoom.us/j/83267686513?pwd=bWhRdnpQQ2pwSzZOZ1JWTUxzamtMdz09 Meeting ID: 832 6768 6513 Passcode: 5555Agenda Review data collection on E. 6th Avenue ahead of community meeting to be held Wednesday June 29th; 6-7pmContact For scheduling purposes, Jenn Gross, Jennifer.Gross@denvergov.org Logan Fry, Logan.Fry@denvergov.org
Carson Community Bulletin Board
Reminders
This is Carson!
June
Total Enrollment:
388
Attendance:
94.81%
Teachers:
32
Support Staff:
22
Demographics
American Indian or Alaskan Native:
.2%
Asian:
2.5%
Black:
7.9%
Hispanic:
9.7%
Multiple Races:
7.9%
White:
71.3%
Native Hawaiian or other Pacific Islander:
.2%
Free/Reduced Lunch:
61 (15%)
H/GT:
74 (19%)
D/HH:
17 (4.3%)
English Language Learners:
16 (4%)
Special Education:
37 (9.4%)
Students of Color:
28.6%
Please excuse any errors in translation.