Cougar PRIDE Newsletter
Posted May 6, 2022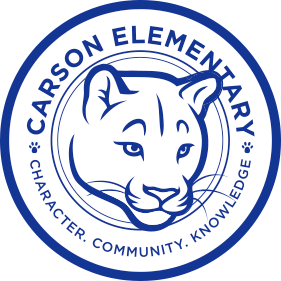 We are Carson!
Climate and Culture
We provide a safe, collaborative, and inclusive community that fosters a sense of belonging and joy. We empower students to develop growth mindsets and to advocate for their social-emotional and academic needs in order to build resilience.
Professional Culture
We build and maintain trusting, collaborative relationships in order to intentionally foster growth and well-being of students and staff.
Family & Community Engagement
We partner with our families and community to embrace diversity, nurture trust, and provide a variety of opportunities to engage with Carson in meaningful ways.
Learning and Instruction
We maintain high expectations of students while providing rigorous, engaging, authentic instruction through culturally responsive and data driven practices to ensure student success.
Principal Letter
Staff Lounge Transformation
Early Bird Registration
Health and Safety
How Sick is Too Sick?
Carson Covid-19 Information
Wildfire Smoke Air Quality Study
Carson Talent Show Volunteers
Crossing Guards Needed
Field Day + Community Pizza Party Luncheon Information
Science Fair Celebrations
2021-22 Yearbook Orders + Tribute Info
Music Notes
Carson & McKinley-Thatcher Family Fishing Day
MLE PAC
PTA
Upcoming Events
2022-23 Discovery Link Before and After School Care
Carson Spring Enrichment
Summer Camp Info
Carson Community Bulletin Board
Reminders
Resources
This is Carson!
Please excuse any errors in translation.